AutoDrop
AutoDrop drags any file you select and drops it automatically onto the specified target window. For instance, if you would like to reuse one and the same the Notepad window to see a few files, one at a time:
Run Notepad
Run AutoDrop
Specify "Notepad" as the target window
If there are multiple Notepad windows, select a window handle.
Select any file you want to see, by a single click in the list view. It gets dropped onto your Notepad window automatically!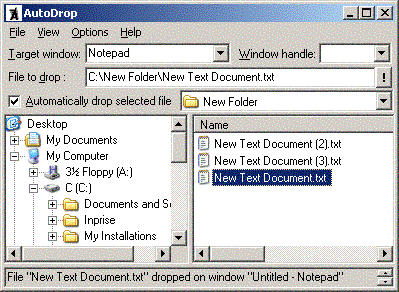 Beside Notepad, there are a lot of other drag-n-drop supporting programs whose main window serves as a good target for AutoDrop. For example MS Paint, Netscape Navigator 4.7, Opera, Acrobat Reader, Photoshop, Word...

Download version 1.0.1.4 now:
The application: AutoDrop.zip (336 KB)
The source files: AutoDropSource.zip (19 KB)

System requirements:
Windows 95, Windows NT 4 or higher.
The source files are compatible with Delphi 6 and 7.
AutoDrop uses a Delphi component from the RX Library.